Establishment and Development
The foundation of Vietnam - Russia Joint Venture Bank (VRB) to boost the bilateral co-operation between Vietnam and Russia is the product of the two countries' leading bank efforts, Bank for Investment and Development of Vietnam (BIDV) and Bank for Foreign Trade of Russia (VTB) with 50% and 50% of chartered capital respectively. The official operation of VRB started on November 19th 2006.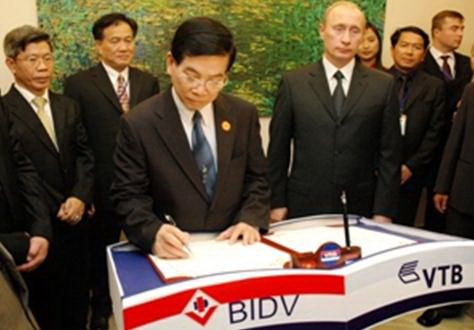 After nearly 3 years performing the task assigned by the two governments, thanks to special support from the two Central Banks, BIDV, and VTB, in 2009 total assets of VRB amounted to USD 386 million, of which USD 63 million was shareholders' equity, retained earning, provisions etc. For now, the chartered capital is 168,500,000 USD.
VRB's business strategy is aiming at "modern retail e-banking" model and has already set up international settlement system and the settlement channel between VRB and VTB using two hard currencies USD, EURO and two local currencies RUB, VND. VRB is trying to be the first bank to float the RUB/VND exchange rate and the center for direct payment of RUB and VND.
Cards and other e-banking services is some of the investment in technology that VRB is trying to create modern banking infrastructure for retail services. Internet banking, SMS banking, ATM card and VISA card services have been put into operation recently proves that the strategy of VRB is to develop modern banking products and services in the orientation towards satisfying the demands of the customers in time of industrialization and global integration.
VRB has 6 branches located in the economic centers in Hanoi, Ho Chi Minh City, Vung Tau, Da Nang, Nha Trang city and Hai Phong city.
For the foreign trade and trade promotion, VRB holds and takes part in a number of business support activities, actively co-operate with Vietnam – Russia business association, Vietnam Chamber of Commerce and Industry (VCCI), Russia – Vietnam business association to facilitate enterprises of the two countries in trading, investment, and operation. VRB has been making the utmost effort to be the economic, trade and financial bridge between Vietnam and Russia, always being with customers on the way to success.
Steadily growing on the path of development and integration, we always try to diversify and improve quality of our services in combination with taking advantage of our own strengths to be on the right track, satisfying the increasing demands of customers. With nearly 500 dynamic, enthusiastic and well-educated employees we have great confidence that VRB can satisfy all the demands of customers in term of banking and finance services in the most effective way.
VRB always strives to deserve confidence of the two Governments, the support of the two Central Banks, the co-founders BIDV and VTB, the confidence and expectation of customers.
VRB: Connecting successes for development!
© 2017 Vietnam - Russia Joint Venture Bank