Link VRB account with MoMo - Receive 1-Million gift basket
09:53 | 19/10/2018
From now until 31/10/2018, customers of VRB please download MoMo Wallet to join the program "Enjoy MoMo now - Receive 1 million shopping chances with only 1 dong everyday with MoMo wallet"
After downloading MoMo, please register your account by phone number, then choose 1 out of 10 gift baskets worthy of over 1 million VND but only pay from 1 VND for all products/services received.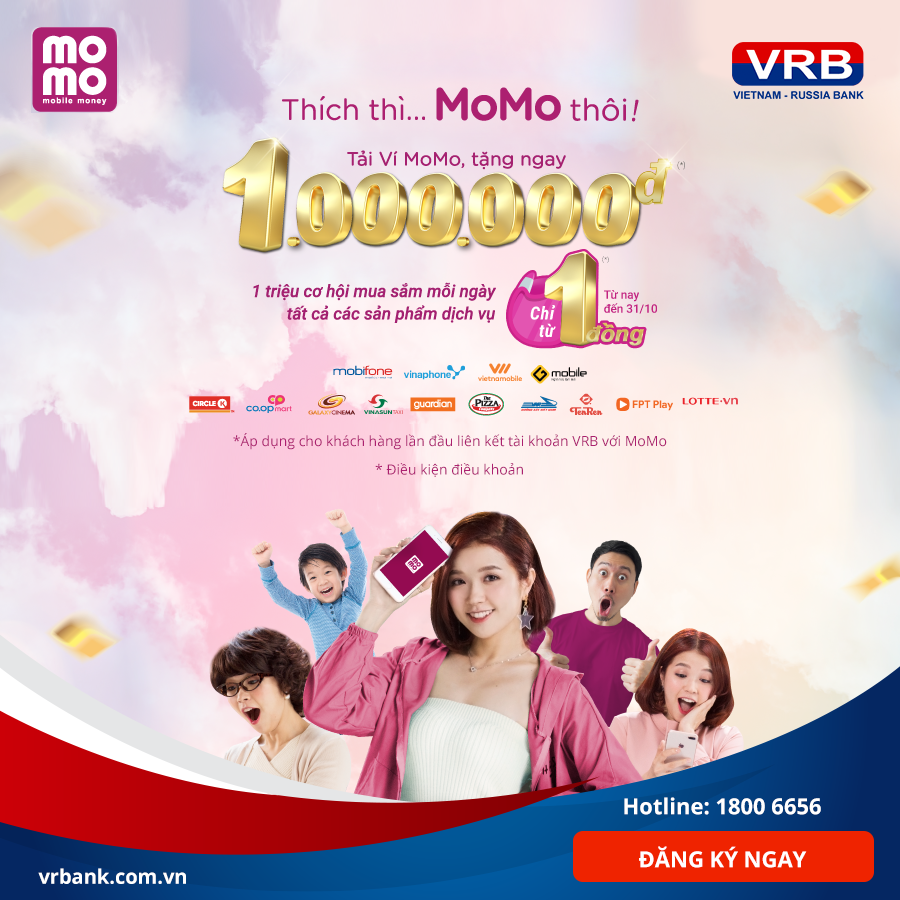 Conditions for customers to link VRB account with MoMo:
1 / Customers register for VRB Internet Banking service;
2 / The phone number of the MoMo wallet must match the number receiving VRB's OTP.
Promotion period: Until 31/10/2018.
Subject: Customers link MoMo account with VRB's account for the first time (their MoMo account has never associated with any bank account before and never received promotion of MoMo for new customers such as CGV, OTC3, Co.opmart Huynh Tan Phat).
Right on the MoMo application, take the following 4 steps to receive more than 1-million gift basket from MoMo:
Step 1: Download MoMo E-Wallet and Regist MoMo by your phone number (skip this step if you already have MoMo account);
Step 2: On the application: >> Select "UU DAI" (left/bottom corner) >> Choose 1 out of 10 gift baskets and click "Confirm";
Step 3: Select "LIEN KET NGAY" >> Choose VRB logo >> Enter VRB account information >> Enter the OTP authentication code >> Confirm;
Step 4: On MoMo, select "NAP TIEN NGAY" and top up only VND10,000 from VRB (the deposit is used normally for all wallet services).
After completing Step 4 (Top up from VRB account into MoMo), customers receive 1 gift basket valued at over 1 million VND (including 21 gift cards) for payment purchase of services (specified on the card) by MoMo. Customers only pay from 1 VND with MoMo to pay/purchase products - services according to the value of the gift card.
Detailed instructions 04 steps to receive Momo reward:
MoMo's gift basket worthy of more than 1 million VND: Include 03 gift groups (including 21 gift cards worthy of more than 1 million VND) and receive at the same time by checking your gift card: Log In MoMo >> Choose PREFERENCES >> My gift
GIFT GROUP 1:
Including 03 gift cards and can be used right after completing 04 steps, including:
02 gift cards (valued 50,000 VND/card, Vinasun valued 100,000 VND/card, Galaxy valued 80,000 VND/card) for payment/purchase of products and services for selected gift baskets;
Gift Basket is named 1 of 10 brands: Vinasun, Galaxy, Co.opmart, Circle K, Train (Vietnam Railroad), Lotte.vn, FPT Play, Ten Ren, Guardian, The Pizza Company.
01 gift card (valued 10,000 VND) - used to recharge/purchase phone card code of all network operators.
GIFT GROUP 2:
Including 08 gift cards worthy of 400,000 VND (50,000 VND gift card), activated after 5 days, including Bill payment cards; Payment at Circle K stores, Passio, AKA House, Swensen's; LaLa Food Delivery, Hoa18.com; The Coffee House... by MoMo.
GIFT GROUP 3:
Including 10 gift cards worthy of 500,000 VND (50,000 VND/gift card), activated after 30 days from receipt, including Bill payment cards; Air tickets, Bus tickets; Book hotel room; Payment FShare; Buy insurance for PTI, Bao Viet, Liberty, VBI; Pay at B-Dubs by Wallet MoMo.
You never had the opportunity to own 1 million VND as simple and fast like this. Quickly install MoMo right now!
For more information, please visit the nearest VRB transaction offices or contact Hotline (free): 1800 6656.
Vietnam - Russia Joint Venture Bank is pleased to serve you!
Orther news:
© 2017 Vietnam - Russia Joint Venture Bank