SPECIAL OFFERS TO CELEBRATE THE 15TH BIRTHDAY OF VRB
15:49 | 21/10/2021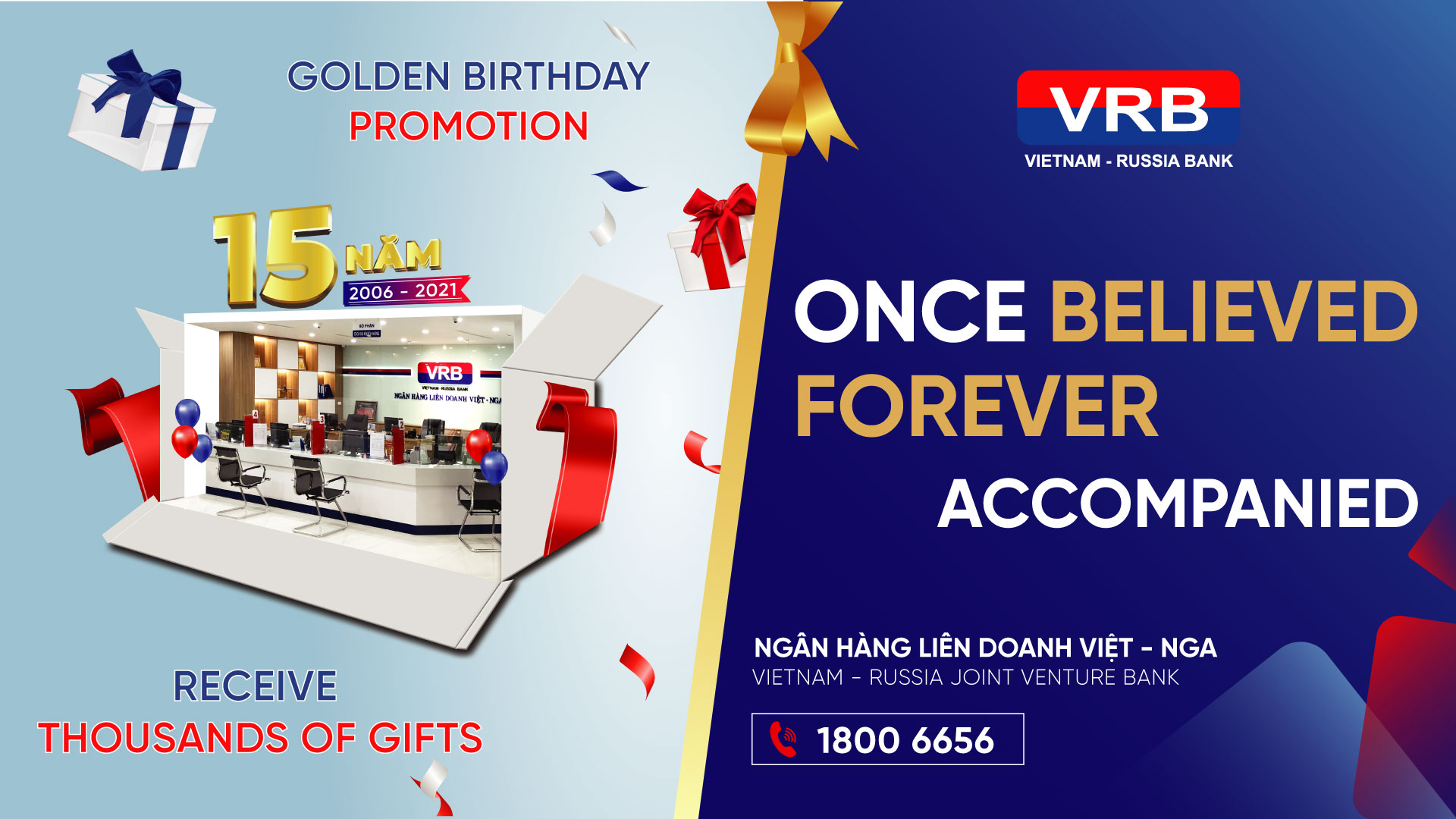 To celebrate the 15th birthday of Vietnam - Russia Joint Venture Bank (VRB), with the desire to express our gratitude to customers for trusting in our services and accompanied with the development of VRB, we would like to send to you the following special offers:
I. FOR INDIVIDUAL CUSTOMERS:
1. Credit program: Get a loan from VRB – enjoy your conveniences of life
Immediately reduce interest rate by 1.5%/year
within 03 months from the date of disbursement when signing a new credit contract and disbursing during the program's application period.
Applicable to five (5) products: House loans, car loans, production and business loans, overdraft loans with collateral, consumer loans with real estate mortgage.
• Promotional policy:
- Extremely attractive lending interest rate from only 5.38%/year.
- Reasonable early repayment fee.
- Monthly principal, suitable repayment amount for customers' revenue.
- Simple loan documents, flexible procedures.
- Notify loan results in up to 48 hours.
• Conditions apply:
Customers use VRB's services during the program period from October 1, 2021 to December 31, 2021.
• The program does not apply to the following cases:
- Customers renew their limit.
- Short-term housing loan.
- Short-term real estate business loan.
- Overdraft loan secured by valuable papers, deposit balance.

2. COMBO MIGHTY ACCOUNT: Multiple promotion when registering to open a new payment account
• Promotional policy:
- Free to choose account number, with: Unique personal number, romantic couple accounts and warm family account.
- Free of issuance fee for all card classes: ATM card & VISA international card for qualified customers.
- Free of many services fee:
+ Lifetime Free of annual fee for ATM card and Internet Banking/ Mobile Banking service.
+ Free of internal money transfer fee within VRB system.
+ Free of fast money transfer NAPAS 247 fee with all transactions worth ≤ 2 million.
• Conditions apply:
Customers commit to maintain the use of the Mighty Account for more than 12 months (In case of closing an account for less than 12 months, the account closing fee is 100,000 VND)
3. Card Promotion: OPEN AN INTERNATIONAL DEBIT CARD, TAKE THE WORLD HOME:
• Promotional policy:
Receive 01 stylish leather handbag worth 1 million VND when issuing a new VISA DEBIT Card at VRB and having valid payment transactions totaling from 500,000 VND within 30 days from the date of card activation.
• Special utilities:
- Flexible payment at millions of card-accepting units, domestic and international websites.
- Optimal information security with EMV Chip.
- Safe transactions with 3D Security 2.0 technology.
• Conditions apply:
- Customers issuing new international cards of VRB (including old customers not having active cards of VISA Debit Gold at the time of issuance).
- Card product type: VISA Debit Gold.
- The issued card has never been activated, used for the first time, is still valid at the time of payment and is in active state at the time of award consideration.
- Payment transactions include: withdrawal, payment for services by card (Via POS and online).
- The promotion ends when the quantity of gift is stock out.

4. Deposit Promotion: Peaceful savings to get higher profit:
• Promotional policy:
Attractive deposit interest rates, with:
- Up to 7.0%/year when depositing money at the counter.
- Add 0.1%/year when depositing money online with terms under 12 months
• Product features:
- Diversified terms: from 1 to 36 months.
- Applicable currencies: VND, USD, EUR.
- Simple procedure when depositing at the counter, easy operation at VRB I-Banking.
- Safe, absolute security.
• Conditions apply:
Online deposit is only applicable to customers who have registered to use VRB's i-banking service.
II. FOR ENTERPRISE CUSTOMERS:
1. Credit Program for Legal Customers operating in essential fields:
• Customers:
Legal customers in essential industry that have demand in working capital, issue guarantees, open L/Cs for production and business activities or investment projects.
(The details of essential industries includes: Technology, telecommunications, E-commerce, retail essential consumer goods, food, beverages, personal care products, homes, chemical production and business, fertilizer, retail, pharmaceutical distribution, medical equipment and supplies, electrical, electronic, refrigeration equipment, etc.)
• Promotional policy:
- Attractive lending interest rate, maximum reduction of 1.2%/year interest rate in the first year.
- Special incentives for collateral, reducing 5% of the rate of collateral compared to current regulations.
- Flexible credit term depending on the purpose of using capital of customers.
- Discounts on fees (*):
+ Free of all domestic money transfer fees, e-banking service fees.
+ Up to 30% discount on guarantee issuance fee.
+ Free of international payment fee when transferring internationally and transaction fees for collection and L/C (*).
(*) Applied in the first 6 months from the time of signing the credit contract with the customer.
• Lending condition:
- A new legal customer for credit granting for working capital needs, issuance of guarantees and L/C opening for production and business activities.
- An existing or new legal customer for project investment credit (New legal customer who has never had a credit relationship with VRB or has interrupted transactions with VRB for above 12 months)
- Condition apply to customers:
+ Having actual operation time more than 01 year.
+ Having a feasible and effective business plan.

2. Credit program for small and micro enterprises:
• Customers:
Small and micro enterprises operating under Vietnam's regulations and having demand for:
- Short-term loans to supplement working capital.
- Medium and long-term loans to invest in fixed assets.
- Guarantee, open L/C.
• Promotional policy:
- Attractive lending interest rates:
+ Reduce up to 1.15%/year for loans over 03 months.
+ Reduce up to 1%/year for loans under 03 months.
- Maximum loan amount is up to 10 billion VND (or 450,000 USD)/customer.
- Flexible loan term:
+ Medium and long-term loans for property investment and guarantees up to 72 months.
+ Loan to supplement working capital up to 12 months.
• Lending condition:
- Small and micro enterprises have effective production and business plans.
- Enterprises, business managers, capital contributors have no overdue debt/structured debt at credit institutions within the last 24 months.
• Loan profile:
- Legal documents of enterprises.
- Financial ability documents.
- Purpose of using capital documents.
- Records of collateral assets.

For any information that needs support, please contact VRB Branch/Transaction Office (contact information can be found at: https://vrbank.com.vn/vi/chi-nhanh-vrb/) or Hotline (toll-free) 1800 6656.

Vietnam - Russia Joint Venture Bank would like to express our sincere gratitude and honor to serve you!
Orther news:
© 2017 Vietnam - Russia Joint Venture Bank