VRB cooperates with Napas, NSPK to provide payment services for Russian domestic cards (MIR chip card) in Vietnam
VRB cooperates with Napas, NSPK to provide payment services for Russian domestic cards (MIR chip card) in Vietnam
The announcement ceremony of completing technical connection of domestic card payment system between National Payment Corporation of Vietnam (Napas) and National Payment Card System (NSPK) from Russia took place on Oct 29th, 2019, in the presence of Deputy Prime Minister of Vietnam Trinh Dinh Dung and Deputy Prime Minister of the Russian Federation Maxim Akimov, State Bank of Vietnam and Central Bank of Russia representatives, and senior officials of the two countries. The cooperation was announced within the framework of the 22nd session of Vietnam – Russia Intergovernmental Committee for Economic-Commercial and Scientific-Technological Cooperation in Hanoi.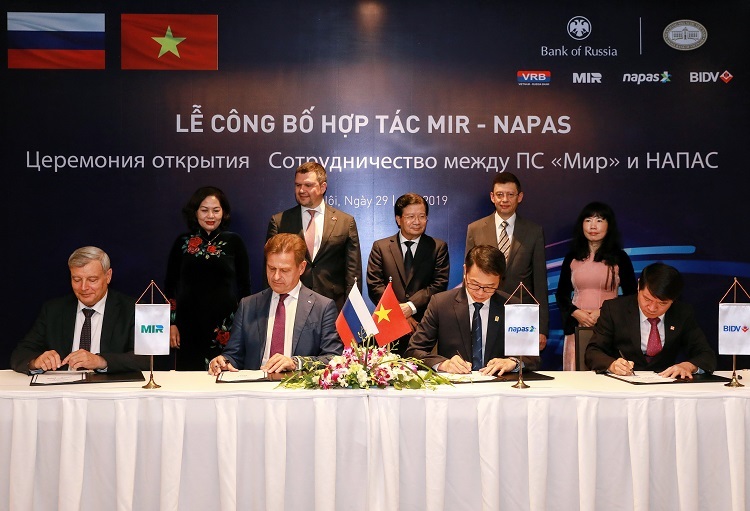 According to the agreement, NAPAS and NSPK agreed to accept MIR chip cards in Vietnam, which is the card of Russian national brand. Regarding the implementation plan, BIDV and Vietnam - Russia Joint Venture Bank (VRB) will be the first two banks associated with NAPAS to provide services that allow MIR cards owners to make payment at any BIDV POS, as well as withdraw cash from VRB's ATM network in nationwide.
NSPK is Russia's National Payment Card System, founded and managed by Central Bank of Russia with 307 organizations. The payment network includes over 130,000 ATMs and 2,600,000 POS machines. To date, banks in Russia have issued more than 67.4 million MIR cards.
NAPAS is currently administering and operating a switching system interconnected more than 18,600 ATMs, 261,000 POS machines serving over 100 million cardholders of 50 domestic and international financial institutions operating in Vietnam.
The cooperation between VRB-NAPAS-NSPK-BIDV in MIR chip card payment service helps VRB to increasingly diversify products, enhance service quality, meet customer needs better.
Orther news:
© 2017 Vietnam - Russia Joint Venture Bank