VRB IS RATED WITH A STABLE OUTLOOK BY MOODY'S
10:39 | 31/08/2021
On March 1, 2021, Vietnam - Russia Joint Venture Bank (VRB) was rated by Moody's for long-term bank deposits and long-term issuer ratings at B2, with stable outlook.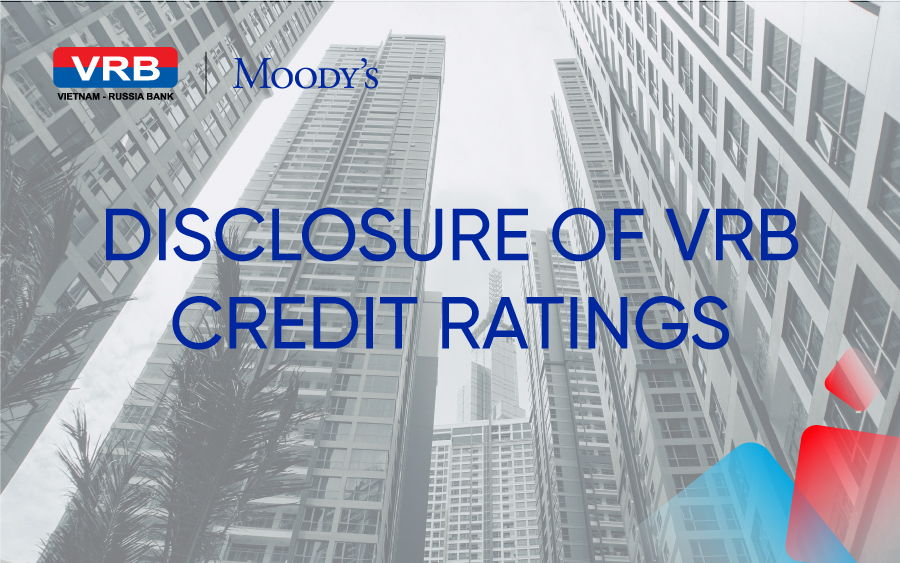 Moody's Investors Service, Inc. is one of the three largest companies in the world, providing credit rating, research and risk analysis services. Moody's has just released a credit rating for VRB at B2 - with stable outlook and many positive reviews in the first VRB rating, specifically: B2 long-term bank deposit and B2 long-term issuer ratings, stable outlook.

Moody's ranks the long-term issuer ratings of VRB at B2 based on its high level of capital adequacy, with the ratio under Circular 41/2016 / TT-NHNN at the highest level compared to other domestic banks (rate at 19%, as of June 30, 2020). With the expected credit growth, in the next 12-18 months, the capital adequacy ratio is still expected at a high level in the market. In addition, the fact that VRB operates independently from the two mother banks, the Bank for Investment and Development of Vietnam and the Bank for Foreign Trade of Russia, has been rated highly and ranked B2 by Moody's for long-term bank deposits. .

In 2020, the Vietnam - Russia Joint Venture Bank completed the restructuring in the period of 2007 - 2020 with good results with the NPL ratio decreasing below 2%, ensuring safety ratios in operations; at the same time, VRB has basically completed the internal control model and maintained the capital adequacy ratio in accordance with Circular 41/2016 / TT-NHNN. In risk management activities, VRB actively implements the application of ICAAP (Internal Capital Adequacy Assessment Process) and builds a Risk Management framework under the Basel II Treaty.

In addition to the good control of credit quality and capital adequacy ratio, VRB has always stood side by side with businesses and individuals affected by the Covid-19 epidemic through policies to reduce lending interest rates, restructure repayment period and interest exemption or reduction, in order to facilitate business development in the "new normal" conditions. In 2020, VRB was also recognized by the Intellectual Property Association "Credit program for Import - Export Enterprises" in the top 20 Vietnam Gold Products with strong points connecting trade between Vietnam and the Russian Federation, quick procedure and cost-effective.

2020 is the first year participating in Moody's credit rating period, Vietnam - Russia Joint Venture Bank (VRB) has been well recognized and confirmed with a reputation equivalent to other state commercial banks in the market.
Orther news:
© 2017 Vietnam - Russia Joint Venture Bank